Glad Fest Royalty
Congratulations to our 2014 Gladiolus Royalty!
Queen Holly Mansberger and Princess Hailey Rivard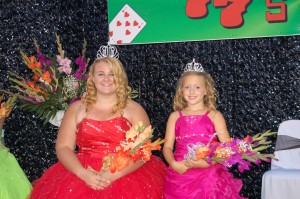 The Glad Fest Royalty contracts are still available through April 17th. The candidates will be answering a simple question in a written format and provide an interview with a panel of outside judges. The candidate's answers will not judged on grammar, punctuation or length. They will be solely judged on content as it pertains to the topic. Last year's princess was one of our younger applicants and was chosen by the panel of outside judges based on her answer.

The interview will be short, just a way for our judges to ask a few simple questions of the applicant. This judging again is based on the answers given only. Also, the interview is only 25% of the score.

The committee voted to go to this format last year, as the number of candidates was dwindling due to the cost and time involved with campaigning. The committee felt this change in format would be beneficial to the candidates and their families, as everything will be completed in just one afternoon. The young ladies would still have their summer to enjoy, along with a few events that we have planned for them.

We are hoping to see more candidates sign up and participate in a wonderful tradition that we want to continue for many more years! Applications need to be postmarked by April 17th. Any questions please call/text Christy Ritter 815-514-4285.