Grand Marshal
2022 Gladiolus Festival Grand Marshal – Michelle Simpson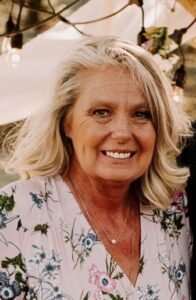 Michelle Simpson, who was a Glad Fest board member for over 20 years, has been named the 2022
Momence Gladiolus Festival Grand Marshal and will be honored in Saturday's 3 p.m. Grand Street
parade on August 13.
Her earliest memory of the Glad Fest happened during the year when she was 10 years old. Her dad had
made stilts for her and a friend and they were going to dress as clowns and walk through the parade on
the stilts. They practiced all summer with a goal of walking around the block 40 times so that they would
be ready to walk the parade route. A neighbor lady stopped them one time and asked to try out the
stilts, after she fell, the girls left and continued to practice. They found out the next day that the
neighbor lady had broken her ankle in her fall off the stilts.
Michelle is a very creative person, some of her favorite memories of the Glad Fest are because of her
creativity. One year, for a Kiddie Parade entry, she asked all of her friends to dress their children in
costumes-each represented a different holiday. The floats that she designed for Simpson's Restaurant
were spectacular and over the top with details. She designed a Candy Land float that had huge suckers
made out of epoxy; she recalls that it was not a cheap float! Another float had a 50s diner theme, it was
covered with glads and vinyl records and had roller skating waitresses skating alongside the float. The
Glad Fest hosted a couple of New Year's Eve dances at St. Pat's gym in 1998 and 1999. Under Michelle's
direction and vision, the board and friends spent 2 weeks cutting cardboard into the shape of a city
skyline, painting it black, outlining it all with silver metallic tape, drilling holes into the tape and inserting
countless numbers of clear Christmas lights into the holes. It looked amazing!
She brought the following events to the Glad Fest:
-Beer Garden/Live Band – When the Drum & Bugle Corps were no longer available to compete on the 2 nd
weekend of August, Michelle was instrumental in convincing the board to introduce the beer garden
with live bands on Friday and Saturday nights.
-Art Show – in 2000, an Art Show competition was added to the Flower Show, it ran for 5 years until
both events were cancelled in 2005 when we were unable to find a new location. This event was
Michelle's idea and she chaired the event and designed the display boards for the art work.
-31 Day Raffle – upon a suggestion from a friend, Michelle convinced the board to replace the former
single night drawing raffle with the format that we currently use.
She was persistent at recruiting new members, bringing Liz Trudeau, Lupe Hernandez, Sherri Cryer,
Nanette Thyfault and Lorri Simpson onto the board. She said that she is proud of everyone she worked
with throughout the years and of all that was accomplished.
Michelle is married to Bob, she has four children, Kindra, Paul, Clayton and Spencer and four
grandchildren Parker, Viivi, Leo and Logan. Her first husband Steve is deceased.
Michelle, thank you for your contributions to the Gladiolus Festival, we can't wait to see what you
design for your grandchildren's entry in a future parade!