Grand Marshal
2023 Gladiolus Festival Grand Marshals
KIDDIE PARADE
The Momence Gladiolus Festival committee is proud to announce the 85 th
Gladiolus Festival Kiddie Parade Grand Marshal is Daya Snapp.
Daya is employed at Jeneir, as a teacher's aide and crossing guard since 2015. When driving through the school zone, you will not miss Daya! She is always smiling and waving at everyone. If you're having a bad day, she will bring a smile to your face! Daya states that she loves the kids, and this brings attention to the kids crossing. She took on the crossing guard duties fulltime after her daughter Opal was born.
Her first memory of the Gladiolus Festival is definitely the parades. She said she remembered them being "magical". Daya's favorite part is the family designated
spots on the parade route, after all that is what this is all about…family. The
festival always brings family back "home". She loves the Meyer Family float each year, always anticipating "what will this year bring" to the parade. Daya also said that she misses seeing the clowns, remembering Girard Rivard in the parades, always made it fun.
Daya has one daughter, Opal, who she shares a birthday with. She said that they are really enjoying their summer vacation, stating "whatever comes up, we do". In her spare time, she enjoys reading.
When Daya was asked to be this year's Kiddie Parade Grand Marshall, she was speechless with tears. She was so surprised and felt so humbled to be chosen. Opal is so excited to see her mom leading the parade.
Daya: enjoy the parade! We know you will have a smile and your wave going strong for all the kids.
Congratulation Daya, enjoy the 85th Gladiolus Festival.
GRAND MARSHALL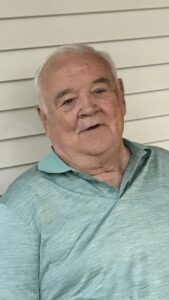 The Momence Gladiolus Festival committee is proud to announce the 85 th Gladiolus Festival Grand Marshal is Mr. Jack Metz.
Jack Metz, a young 80-year-old, was born and raised in Momence. He has had multiple businesses in town over the years. Gas station on the southside for 5 years, Metz Manufacturing for 12 years and Metz Towing for 25 years. His son,
John, worked with him at Metz Towing. When asked which was his favorite, he smiled and admitted that the manufacturing was it. He really enjoyed working there.
Jack was also an Alderman for 18 years and served many years on the fire department. Charlie, Jack's dog, goes with him almost everywhere. Jack stated "that's my dog" with that chuckle of his.
Jack has been very generous over the years for the Gladiolus Festival committee, always giving use of his car for the coronation and parades. The car, a beauty, is a 1975 Capris convertible and floats down the road as smooth as can be. Jack bought the car in Nebraska with his wife Donna, who passed away. The car was recently re-done by Steele Collision. When he is asked for use of the car, he would say, with that sly smile "yep, for a hug".
After asking what his favorite memory from his early Glad Festivals was, his eyes lit up with a twinkle and said "throwing Conrad's loaves of bread from the top of the bakery truck." He enjoys the parades each year, and has a perfect spot to watch right down the street from his house.
Jack has one son John, and four daughters: Jaqueline, Joy, Stacy and Faith. He has 12 grandchildren and 6 great-grandchildren. In his spare time, he enjoys relaxing. He said, he has so many friends in town. He enjoys waving from his porch at everyone when they go by.
Jack's son John, will be driving Jack in the 1975 Capris convertible during the parade. Knowing Jack, he will be smiling and waving at everyone as he goes down the parade route.
Congratulations Jack, enjoy the 85th Gladiolus Festival.