Grand Marshals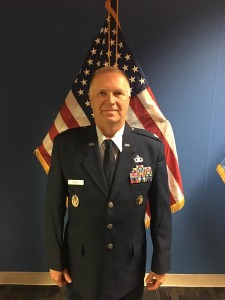 We Honor Those Who Serve & Protect…the list is substantial of worthy individuals and "there are many people more deserving than me" expressed a humbled Lieutenant Colonel Barry J. Hunte, upon learning he had been chosen to reign as Grand Marshal and oversee the 80th Main Street Parade during the 2017 Momence Gladiolus Festival.
Born and raised in Momence, Lieutenant Colonel Barry J. Hunte graduated from Momence High School in 1982. Before enlisting in the United States Air Force in 1984, he attended Kankakee Community College for one year and worked for Baker and Taylor and at MacDonald's Truck Stop as a cook. While enlisted, Lt Col Hunte earned both a Bachelor and Masters Degree in Human Resource Management from Troy University in Alabama.
After basic training, Lt Col Hunte's Air Force profession began in 1984 working on F-4, T-38, A-10 and UH-1 aircrafts, as an Avionics Specialist. When he concludes his military career and retires with 33 years of service to the United States of America on September 15, 2017, he will be finishing his occupation as Chief of Support Operations, overseeing members working in the United Nations missions in South Sudan, Democratic Republic of the Congo, Mali, Central African Republic, Liberia, Libya/Tunisia Isreal, Haiti and United Nations Headquarters in New York.
Currently, Lt Col Hunte resides in Stafford, Virgina with his high school sweetheart and wife of 32 years, Lisa, and their two children, Austin, a junior at George Washington University,  studying abroad in Oxford, England this academic year and Amber, an 8th grade honors student, who is an exceptionally talented softball player. Collectively, the family has relocated 11 times over the past 33 years to accommodate Lt Col Hunte's various military assignments, including 6 weeks when Lisa and the children returned to Momence to live with relatives after losing most of their personal belongings when Hurricane Katrina stormed through Mississippi.
Lieutenant Colonel Hunte has held positions in Air Force Space Command, Air Force Combat Command, Air Force Education and Training Command, United States Air Force Headquarters and United States Military Observer Group. He has performed as Launch Weather Officer (Space Shuttle Weather Officer), Instructor, Instructor Supervisor, Flight Commander, Air Staff, Executive Officer, United Nations Peacekeeper Desk Officer and Chief of Support Operations for the Department of Defense Military Members serving in United Nations' Missions. In addition, Lt Col Hunte has deployed in support of Operation Uphold Democracy, Operation New Horizon, Operation Provide Comfort, Operation Southern Watch, Operation Enduring Freedom, Operation Iraqi Freedom and Operation New Dawn, taking him to the countries of Kuwait, Africa, Iraq, Haiti, Korea and Pakistan.
When asked if there was anything specific he wanted to share about his Air Force Career, Lt Col Hunte simply replied "I have enjoyed every assignment and job I have held. I have just had a job to do like every other working person each day." He further went on to say that his one-year deployment to Iraq was one of his toughest career movements and that his post as Space Shuttle Support Weather Officer was one of his most enjoyable and memorable experiences. As a member of the United States Air Force, Lt Col Hunte has been awarded the Defense Meritorious Service Medal, Air Force Meritorious Medal, Air Force Commendation Medal, Air Force Achievement Medal, Army Commendation and Army Achievement Medals.
In 2005, when Momence family members traveled south to help Barry and family regroup after the destruction of Hurricane Katrina, the subject of the Momence Gladiolus Festival came up in conversation, as Barry's brother, Garry, and his cousin, Lori, were both Gladiolus Festival Board Members. During this chat and memory exchange, it was decided that the Hunte family would rekindle a fond childhood memory—building a large gladiolus covered float! With wheels in motion, not only was Barry rebuilding what his family had lost to Katrina, but was formulating his design thoughts for the Hunte family floral float that would debut in 2007.
In 2007, 2010, 2015 and most likely 2017, the Hunte family float has been the lone participant in the floral division of the Momence Gladiolus Festival parades. The gladiolus structured float concept is a tradition rich in heritage, one the Hunte family relishes because it incorporates the basis of the original festivals. However, according to Barry, their love for building floats dates back to their childhood memories, when they would watch both of their parents participate in the yearly process. When the Hunte gentlemen, Harry, Larry, Garry, Barry and Cary were youngsters, their father, Leon Hunte, would construct floats for the boys for the kiddie parades. Grand Marshal Barry states his favorite Momence Gladiolus Festival recollections include a spaceship float his father built, being allowed to tag along with his mother, Pearl, a Baker & Taylor employee, to watch while she and her co-workers decorated their annual B & T float entries and selling gladiolus flowers outside of his father's Union 76 gas station.
Structuring the Hunte family floral float is truly a family project, especially when the design coordinator, Barry, is an out-of-towner! After consulting with brothers Harry, Larry, Garry and Cary regarding the theme and securing the location to house it, Barry begins orchestrating the many aspects of turning the vision into reality. Construction begins with family here in Momence, while Barry prepares and trailers other pieces and props from his home in Virginia. After the construction team has everything placed and completed, it is all hands on deck to begin the tedious process of securing approximately 15,000 gladiolus flowers onto the float. This is the step where the Hunte family heavily relies on nieces, nephews, cousins, friends, anyone and everyone to lend a helping hand!
The Hunte family has learned over the years that building a beautiful floral float is no simple task, but Barry and crew remain up for the challenge! Because it is difficult to purchase the amount of gladiolus flowers needed locally, family members borrow trucks and drive to Bronson, Michigan the Tuesday before the Gladiolus Festival begins. Armed with approximately one hundred and fifty 5-gallon buckets, the non-blooming gladiolus flowers are then transported back to Momence where the process begins to make them float ready. Barry stated, depending on the weather situation, the Hunte's have had to speed along the blooming process by placing the flowers into buckets of warm water to step up and encourage blooms and they have also had to store the flowers in refrigerated trucks to keep the flowers lively during excessive heat.
This year's float is themed around Barry's Air Force career and will feature over 11,000 red, white and blue gladiolus flowers, as well as over 500 hydrangeas, carnations and sunflowers. Building the family floral float is a tradition the Hunte brothers anticipate continuing every other year for the next 10 years or so, at which time Barry hopes one of the younger family members will then oversee the float operation and keep the custom going. The Gladiolus Festival Board and parade viewers share that wish and desire as well!!!
We Honor Those Who Serve & Protect…thank you Lieutenant Colonel Barry J. Hunte for your years of service, sacrifice and dedication to our United States of America and to your hometown of Momence, Illinois. It is our pleasure to recognize you as Grand Marshal of the 80th Momence Gladiolus Festival!