Grand Marshals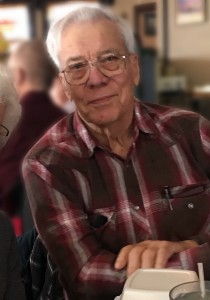 Lifelong Momence resident Elwood Line has been chosen by the Gladiolus Festival Association as the Grand Marshal in Saturday's 3 p.m. Grand Street parade.
Elwood's earliest memories of the Glad Fest are when the carnival grounds were south of the river on Dixie Highway near the bowling alley and picking glads from sun up to sundown for the floats. He did this from the time he was a young child until he was a young adult.
His favorite childhood memory about the festival is riding on the carnival rides – he didn't play the games because he felt they were a rip off.  He remembers 40 or 50 years ago the Glad growers from Wichert entered a big train engine that probably had 100,000 gladiolus blooms on it and it was quite the spectacle. His favorite thing about the festival now is getting to see his family and friends and watching the parades.
Elwood and Joanne LeBeau met at the Glad Fest carnival grounds in 1950 and started dating a week later. They married in 1953 and have been married 66 years. They have 3 children Denise, Scott and Kurt, 2 grandchildren and 3 great-grandchildren.
He is a "retired" farmer and also owned Elwood Line Grain & Fertilizer for 34 years. He still continues to help his sons and run the combine at harvest.
He has participated in festivals by helping to build floats as far back as he can remember, while he owned the elevator, he built floats that he pulled with his International F250 like the one he had driven when he was 8. He had organized the Southside Business float for many years. He also stored Glad Fest floats in his sheds between parades.
Elwood was a Gladiolus Festival Board Member for 5 years in the 70s, he remembers selling tickets to get on the carnival grounds for 25 cents. He was a school board member for 2 different terms totaling 25 years. He was a member of the Momence Chamber of Commerce, and is currently a member of the Moose Lodge and he is an Odd Fellow. He spends his free time driving around to look at crops and visiting with the guys at the coffee shop every morning.
Elwood has ONLY been to 81 Gladiolus Festivals. He missed one year when he went to Arizona with his parents to celebrate their anniversary. Elwood will be driven through the parade by Scott and Kurt.